By all indications, our catastrophe of a President is poised to go fully global.
President Trump is expected to withdraw the United States from the Paris climate agreement, three officials with knowledge of the decision said, making good on a campaign pledge but severely weakening the landmark 2015 climate change accord that committed nearly every nation to take action to curb the warming of the planet.
There's really no way to oversell the terrible nature of this decision. Let's just take, in what is amazingly the least terrible aspect of this, how much Trump is sticking his stubby thumb in the eyes of our allies. After returning from a disastrous and petty trip to the elected leaders of Europe (on the heels of a fawning stay with Saudi monarchists), Trump immediately continued an offensive against Germany, and the liberal order in general.
This rift between him and Merkel is self-inflicted, but entirely in nature with his character. One, Merkel is a woman who isn't his hot daughter, so he doesn't care much for her. Two, she stands up to his arrant bullshit, and is clearly 100 times smarter and more capable than he is. This drives him particularly crazy (see: Elizabeth Warren).
It isn't just personal, of course. The Trump plan, inasmuch as there is one, has been to undermine the liberal order so that America would be unconstrained. This has long been the goal of the right, and it fits with Trump's self-image. He (and they) think the US should do whatever they want, and cut deals without concern for anyone else, or how it impacts the world. And he thinks he's the only one smart enough to do, despite a lifetime of experience that should scream otherwise.
So that's part of the reason for this rift, and honestly, part of the reason why Trump is going to be pulling out. He hates the Paris Accords because he didn't negotiate it (never mind that he knows as much about climate policy or science as he does anything else, which is: nothing). He hates that it constrains the US (never mind what it actually does). He hates that it is multilateral. In the latter two, at least, the far-right is there with him.
And, of course, he is a terribly small and petty man who thinks that lashing out like a spoiled baby is a sign of toughness. So he'll gleefully pull out of the Paris Accord, saying "a very bad and very unfair and also bad, bad deal" at least 100 times. He'll do it just because people told him it was a bad idea. He'll do it because he wants to stick it to Merkel.
It's jaw-dropping how politically and internationally short-sighted this is. The Paris Accords were the product of years of negotiation, bringing aboard major polluters like China and India. Remember, for years we couldn't act on climate change because China and India wouldn't. That excuse is gone.
This is a terrifying abdication of global responsibility. This is causing one of the biggest rifts in the post-war world order. And while "world order" might terrify the black helicopter crowd, it is an apt phrase when taken literally. After the civilizational nightmare of WWII, these institutions were painstakingly created to create peace. It didn't happen overnight, but it became solid enough that the idea of war between the western powers became unthinkable, instead of, as it was within living memory, accepted as an inevitable part of life. That's enormous.
I'm not saying Trump is going to lead us to war with Germany. But I am saying that the ramifications of deliberately undermining that order are unpredictable, and absolutely none of the possible outcomes are good. At best, it will muddle along with gritted teeth until we replace this bozo.
But of course, this isn't an argument over Iraw or Bosnia. It isn't an argument over trade. What Trump is doing will make it increasingly hard for the human race to muddle along.  We're at a very crucial point in our history. Dig this graph from AP News.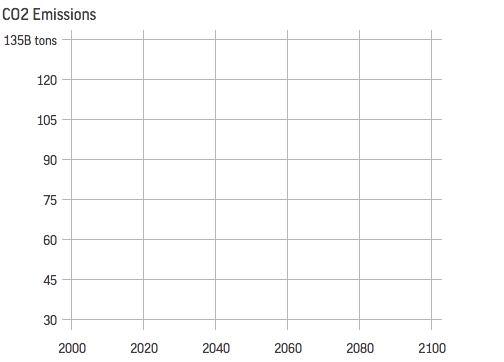 The world without U.S. efforts would have a far more difficult time avoiding a dangerous threshold: keeping the planet from warming more than 2 degrees Celsius (3.6 degrees Fahrenheit) above pre-industrial levels.

The world has already warmed by just over half that amount — with about one-fifth of the past heat-trapping carbon dioxide emissions coming from the United States, usually from the burning of coal, oil and gas.

So the efforts are really about preventing another 1.6 degrees Fahrenheit (0.9 degrees Celsius) from now.

"Developed nations — particularly the U.S. and Europe — are responsible for the lion's share of past emissions, with China now playing a major role," said Rutgers University climate scientist Jennifer Francis. "This means Americans have caused a large fraction of the warming."

Even with the U.S. doing what it promised under the Paris agreement, the world is likely to pass that 2 degree mark, many scientists said.

But the fractions of additional degrees that the U.S. would contribute could mean passing the threshold faster, which could in turn mean "ecosystems being out of whack with the climate, trouble farming current crops and increasing shortages of food and water," said the National Center for Atmospheric Research's Kevin Trenberth
The best case scenario is more war, more instability, more starvation, and more disease. We'll have more forced migration, refugee crises, and violence. The worst case is that the coastal cities flood, plants wither away, and human life becomes untenable on the planet in the next few hundred years. That isn't the most likely scenario, but it is, in fact, a possibility.
This isn't happening just because of Trump. It's obviously a global problem, caused largely by capitalism, but with many other factors as well. And right now, the problem isn't just Trump, but the entire Republican Party, which sees climate change as liberal snowflake nonsense, or a deep conspiracy to erode sovereignty.
It's part of this madness that sees the earth only as land to be exploited, and sees reckless and selfish greed as a virtue. It's the entire Republican Party. I don't know if Jeb would have pulled out of Paris (though Cruz would have), but he would have appointed someone like Scott Pruitt to run the EPA. Maybe not as venal and corrupt, but someone who would have overturned regulations that protect us and the environment (pro tip: as animals, we're part of the environment, which is something that we don't really seem to understand). There is a small chance, I guess, that Trump will stay in, but he'll do so in a way that still breaks every promise.
So that's where we are. It would be laughable if it wasn't so terrifying. There's only one major political party in the world that doesn't believe in climate science, and that is US Republicans. They don't believe in it because they are faith-struck and fear-ridden and resentment-driven and paranoia-riven. They have no basis in the real world, and therefore don't care what happens to the real world.
And they are a minority party in the US. And the US is only 4.4% of the world's population. So a small, mostly-regional party in a country with a fraction of the world's population is not only ripping apart the greatest force for peace the world has ever known, but literally setting the human race on a path toward possible wreckage, and even possible extinction.
And the face of that is Donald Trump. The sheer cruelty and stupidity of this, that Donald Trump, this vulgar dummy who in a decent world would never have been more than a cheap used car salesman, is consigning the planet to hell, is enough to send one to gibbering laughter. It's the echoing laughter of the doomed, gone mad in a ghostship slowly drifting across a deadened sea.