I have a whole post planned about a terrible new law making its way through Michigan that will reduce oversight on lake withdrawals, as well as the gigantic diversion giveaways Scott Walker wants to give to Foxconn, but since it is Great Lakes Day, I thought maybe some pictures.
Let's look at the stunning beauty of the Lakes, and think about what an enormous gift, what a continent-defining feature, what life-affirming and life-sustaining bodies these are, how they've molded our history and have given birth to millions of paused thoughts. And let's remember to protect them.
(prior posts on Great Lakes are below)
Look at how even the enormity of Chicago is just a blurry fuzz at Lake Michigan's southern end. What I love about pictures like this is that you can see the meaningless and the human intrusion of borders.
Small as we may be, our impact is enormous. From here, the lakes look almost unnatural, like the human lights (a gross and small-minded echo of the northern lights above) are the natural feature, and there is a vast darkness interposing itself. And in a way, that's true: the lakes can swallow whole our individual aspirations, lap at our shores unconcerned and erosive. For years, I was terrified by Lake Michigan at night, but could never place it: the vastness and the lack of concern for human existence gave me an unnamable dread. As I got older, I figured it out, but it is no less quieting for that.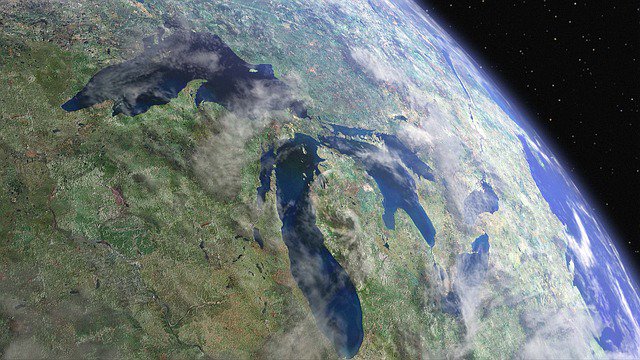 I saw this on twitter, but there's no mention of origin, so I'll just say it is beautiful.
This was taken by the Canadian Space Agency. I like it for the different perspective than our usual "north is up" one, which makes little sense on a round planet. But also: Canadian Space Agency!
These two beautiful shots were taken by Allison, just this afternoon, at Illinois State Beach Park. If you look closely at the bottom one, pointing south, you can see the dim outlines of the Chicago skyline, some 40 miles away. It's so far, and so vast, and you're really just still at the bottom part of the lake. Geologically, you're right next door to Chicago.
This slideshow requires JavaScript.
These were taken by me at various times in the last year. All about the same spot, and all, to me, show the great gift of the Lakes, with their never-same moods contrasting with their omnipresence. They are stabilizing, and we look to them in the morning to reassure of us some continuity, even as the world breaks apart, and even as their changing faces gives us a glimpse of our own impermanence.
Here are a few Great Lakes posts, if you're inclined to do more reading.