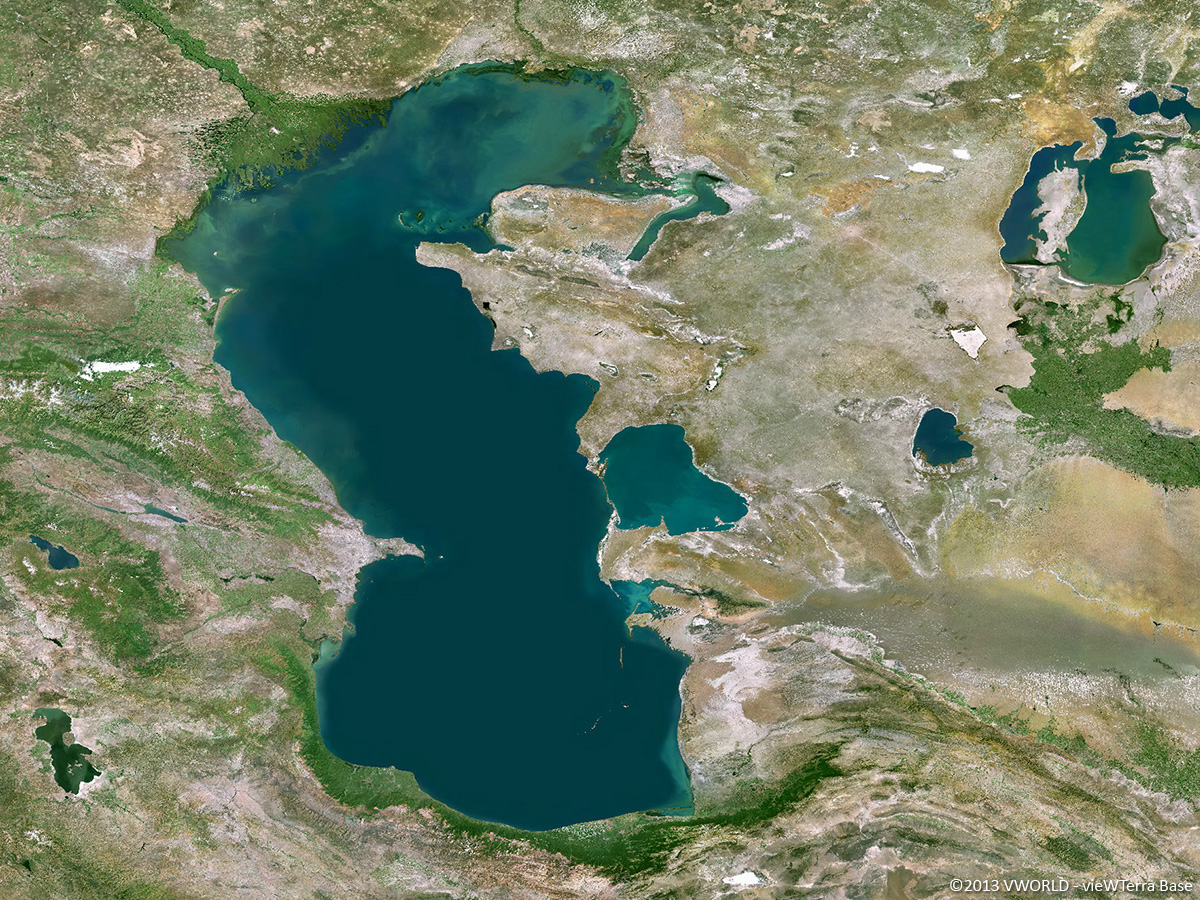 Every day, there are millions of stories that don't make the headlines, and don't get written up in the papers, but that reflect the slow and grinding way the world really works. They reflect the tiny changes in policies, the historical patterns that ebb and flow but are never really absent, the way that past actions impact present decisions, and the way that political abstractions like "countries" and "borders" crash against the real world.
All of these factors are interesting, and I think especially so to Americans, a nation which is nearly unique in trying to ignore history, the ramifications of decisions, and geopolitical realities. But all that is catching up.
I bring this up due to a neat little story by Paul Goble in Jamestown's Eurasia Daily Monitor, called "Collapse of Russian Shipping in Caspian Put's Moscow's Regional Strategy at Risk." Even though shipping in the inland sea is booming, Russian ports, a key part of both its North-South and East-West regional strategies, is drying up. It's about how the other Caspian nations are essentially colluding against Russia to starve its seaports, creating new regional alliances based on both underwater rights and the laws that govern surface territory, all hinging on the question: is the Caspian more like a lake or like an ocean?
What then is going on?  The answer can be found in the complicated politics of the Caspian region, the continuing difficulties the littoral states have in demarcating the seabed, as well as growing tensions among some of these states with Russia. And because that is the case, the decline of freight traffic at Russia's Caspian ports in the first quarter of 2017 is even more significant than might appear at first glance.

In Soviet times, Moscow and Tehran divided the Caspian into two unequal zones, a division that even then had important implications because of the oil and natural gas reserves discovered on the seafloor as well as due to the rising trade between the Soviet Union and Iran. With the disintegration of the Soviet Union, the number of littoral states increased from two to five: Azerbaijan, Kazakhstan and Turkmenistan thus become involved in talks about delimitation and trade on the Caspian alongside the Russian Federation and Iran.

For 25 years, these five littoral states have been unable to reach an agreement on the division of the seabed, something Moscow has exploited to block many pipeline projects that would not have involved Russia. Yet, at the same time, that deadlock has led to expanded contacts between other pairs of littoral states and increased shipping between and among them—again to the exclusion of the Russian Federation (Abo.net, April 18, 2016; Natural Gas World, May 6, 2017). Now, Moscow's policies have returned like a boomerang to limit its future role in the region.

Russia, Azerbaijan and Kazakhstan call for treating the Caspian as a lake rather than an ocean, an arrangement that would divide the seabed among the countries but leave surface commerce open to all. Whereas, Turkmenistan and Iran want it to be treated as a sea and be divided totally into five sectors. Despite suggestions at a January 2017 ministerial in Baku that the five Caspian littoral states would sign an agreement overcoming the divergence of positions (see EDM, May 8), the participating foreign ministers could not even say when such a meeting would occur this year, an indication that they remain far apart (Mfa.gov.az, Azernews.az, January 25).
This isn't a headline story, and nor should it be. Could you imagine if you got a buzz on your phone signifying a news alert and it was this? "Russia, Turkmenistan Remain Deadlocked on Oceanographic Nomenclature!" Holy shit, you'd be furious.
But that's a reflection of how, regardless of the way time feels right now, the world doesn't work in headlines. People come and go, and the decisions they make are momentous, but slow patterns of geography and history grind underneath their feet, constraining and shaping their actions.
Moscow's centuries of expansion, whether as Russia or the Soviet Union, influence its relations with its former vassal states, as well as Iran, not to mention the ethnic federal entities that actually border the Caspian (most notably restless Dagestan, whose port revenues were seen as a guarantor of some stability). Russia also has no non-arctic  oceanic sea ports; it is a continental power. That's why it is so aggressive in the Caspian and Black seas, as a way to control the Eurasian sphere.
But its aggression can often backfire, as we see here, when its oppressive thumb led other states to pair with each other and Iran, bypassing Russia, and perhaps putting its regional goals in check. This gives more lie to the "Putin is a flawless puppet master" myth. I still think Russia will rue their cruel Middle East adventures. He just got lucky with America and Trump.
But then, what choice did Putin have, with the Caspian? He was dealing with the legacy of an empire that rushed from the colds of northern Europe to the sunbaked sea, colliding with Iran and with other ancient Muslim nations, having to bloodily hack their way through the Caucuses to get there.
The sea is what mattered to Russia, as an easier way to get across the continent. And then, after WWI, for its insane abundance of oil and natural gas. This was heightened in WWII, when Hitler diverted a good chunk of his invading army south to secure the oil fields near Baku. And certainly, after the fall of the USSR, Russia fought to hang on to it Caucus territories both to stay by the sea, and to avoid letting the rest of its hard-fought empire, which we take for cartographical permanence, from spiraling away.
These things matter. History matters. Geography matters. America, whose long racial history is catching up with it, which is seeing the impact that its centuries of continental aggression and century of global aggression have wrought, and who is slowly learning the real lessons of geography, needs to understand that. Russia does. Iran does. The butchers of the ISIS and al Qaeda do. It's time we do, too.