In the late 90s, Ethiopia and Eritrea, two states, large and small, united and divided by the forces of history, waged a fierce and terrible war over a handful of dusty towns and lifeless fields at the heart of their disputed border.
In fighting that resembled the pointless muddy carnage of WWI, trenches appeared in this no-man's land, poison gas was used, and tens of thousands lost their lives for no gain on either side. By 2000, with both sides exhausted, a state of not-war was declared, though peace was elusive. A UN commission awarded the territory to Eritrea, but Ethiopia never accepted it, and war was still always on the table, balancing on a knife edge in the fierce heat of the Horn of Africa.
The leaders of Ethiopia and Eritrea have signed a declaration saying that the state of war between the two countries is over.

A peace deal ending the 1998-1999 border conflict has never been fully implemented and there has been tension between the neighbours ever since.

The countries have also agreed to re-establish trade and diplomatic ties.

The declaration came at a landmark meeting between the two countries' leaders in Eritrea's capital, Asmara.

The summit between Eritrea's President Isaias Afewerki and Ethiopia's Prime Minister Abiy Ahmed marked the first time the neighbours' heads of state had met for nearly two decades.
This is very good news. From a US perspective, it means that our main ally in the Horn of Africa, Ethiopia, will be less distracted by their disputatious neighbor. That can only help in the on-going fights against AQAP and ISIS and al-Shabab in the region (merely stating a fact, not saying that our methods/tactics are good).
Beyond the US, of course, is the possibility of peace in the region, a genuine one, instead of the tense terrors of the last 20 years. Or really, the last 70. And because of this, we can see that not all conflict has to last forever, even the seemingly intractable.
For those not familiar with the history, Eritrea was part of Ethiopia, but only due to the weird legacy of colonialism. It had been a collection of kingdoms and sultanates, Christian and Islamic, demonstrating the eclectic intermingling at one of the world's inflection points. It's a mix of sub-Saharan Africa, the Arabian Peninsula, north Africa, and more. Indeed, it is much more relevant to think of it as a Red Sea country than an African one. It's ties are to Yemen, Somalia, Djibouti, and of course, Ethiopia.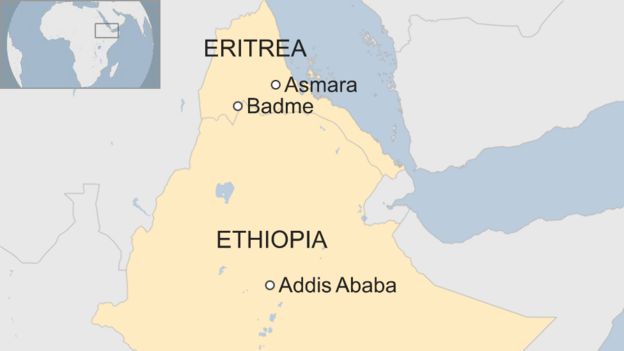 But not by choice. Ethiopia was invaded by Italian fascists, led by noted fascist superstar and street-named-after-guy Italo Balbo, and they brought together these independent kingdoms into Italian Eritrea. When the fascists lost to the English, both Ethiopia and Eritrea were "administered" by the British. When that got to be too expensive, the Brits just lumped everything together and gave Eritrea to Ethiopia. This was sanctioned by the UN and Western nations under their longstanding and time-honored policy of "Eh, they're pretty much the same".
Needless to say, this didn't lead to a state of peace, especially when vicious Ethipoian leaders made a point of harassing and starving restless regions. A civil war took place over the course of decades, with "rebel" troops entering the Eritrean capital of Asmara in 1991. That paved the way for a de facto state, made de jure in 1993.
So needless to say there's been some tension, and the 1998-1999 war was as much an exercise in revenge and historical anger than it was about a handful of cities. But time, apparently, can sometimes heal wounds, and countries don't have to be beholden to the past. They can actually get past it, and move forward.
I know that sounds antithetical to most of what this blog has been preaching over the years, but the not really. I think we have to be aware of the past, to understand its terrible pull and grasping hold, in order to move past it. When we aren't aware is when we get in trouble. When we don't try to understand the historical forces working against us, the ground underneath our feet, is when we are caught unprepared.
I don't want to say things are good over there, now. The President of Eritrea is still Isaias Afwerki, who once seemed like a brave new leader, but has since descended into brutal, paranoid madness, a Stalin-like leader who has maybe surpassed the darkest days of Mengistu. It's a police state gripped by terror and brutality, and with its own insurrections in the name of freedom.
There's a long way to go. But this is a day no one thought could ever come. So to that, we'll celebrate, still wary, but relieved. There can be good news, even in these dark and weird times.