Hey, remember on Wednesday, when we had sort-of good news about things? A post that wasn't super bleak? Well, don't get used to it, chumps.
Let's hit some things, quickly! How about we start with…the death of the planet?
Planetary Forcast Is Hot and Dead
At Inverse, which is really a wonderful site, Mary van Aue reports that we've had our 400th consecutive month of above-average temperatures. We're also pretty much guaranteed to have a temperature change of at least 2 degrees, Celsius. This is: bad.
With these new records behind us, scientists are now forecasting that the "worst case scenario," one in which the planet heats up more than 2 degrees Celsius above pre-industrial temperatures by the end of the century, is more likely.

That number isn't arbitrary. Limiting global warming to just 1.5 Celsius above pre-industrial temperatures would limit the carnage that climate change has on the Earth's biodiversity. A new study published in Science on Friday found that keeping global warming under 1.5 degrees Celsius would preserve tens of thousands of land-based species of plants, vertebrates, and insects living on the planet.
For anyone who thinks "biodiversity" is just something liberals like, remember that we all eat plants and animals! And they eat other things, and get nutrients from other things, and keep other plants and animals alive, and often work in complex, symbiotic ways.  When species start dying, whole ecosystems can collapse. We live in a bunch of overlapping ecosystems. This is a catastrophe, and honestly, I don't think we're going to make it.
Congressman Has Odd Ideas About Rising Sea Levels
You probably saw this earlier, but Mo Brooks (R- Alabama, the least surprising parenthetical ever) made maybe the dumbest comments ever uttered in the House of Representatives, a place that employs Louis Gohmert. It was about climate change and the rising seas.
Now, the official GOP position is that global warming doesn't exist, and that it is all a hoax made up for some reason, most likely to make scientists rich. This is enshrined in our nation's highest office.
But on the other hand, there are things like "facts" that make it super hard to pretend this isn't happening. One fact is that we just passed 410ppm of CO2. That's not a record, probably, since there have been times when it was higher, like when the Deccan Flats or Siberian Traps were coming damn near to extinguishing life on the planet, but it is the highest we have in about 800,000 years. (I linked to Business Insider there because I don't think they're known for their raving liberalism.) This keeps going up, according to the dangerous radicals at NASA.
There's also the fact of rising oceans which threatens a lot of the world's population, and which is getting considerably worse. One of the reasons it is getting worse is because of all that CO2 floating around, and warming the oceans, which is melting Antartica from beneath, which we just discovered, and is genuinely terrifying.
So it is the job of Republicans to wave away these facts, and they showed their tactics in full at a hearing this week. As Science explains:
The purpose of the hearing was to focus on how technology could be deployed for climate change adaptation. But the hearing frequently turned to the basics of climate science. Many of the questions by Republicans and Democrats alike were directed to Philip Duffy, president of the Woods Hole Research Center in Massachusetts and former senior adviser to the U.S. Global Change Research Program.

Rep. Dana Rohrabacher (R-CA) said he was bothered that established climate science has not been questioned more by the committee, which has accused federal climate scientists of fraudulently manipulating climate data and subpoenaed their records.

"I'm a little bit disturbed by, No. 1, over and over again, I hear, 'Don't ever talk about whether mankind is the main cause of the temperature changing and the climate changing,'" he said. "That's a little disturbing to hear constantly beaten into our heads in a Science Committee meeting, when basically we should all be open to different points of view."
That's the most common Republican tactic…allege that the scientists aren't open to other points of view, that it is a conspiracy, and that they just want to get the truth. It's a very hard-to-fight cynicism, because overwhelming consensus is whistled away as proof that everyone is in on it. It's a real mob mentality! That this is being put forward by bought Russian stooge Rohrabacher is the real icing here.
But it is up to Mo Brooks to not just counter the idea of rising seas, but to find alternate ideas. These are…interesting.
Brooks then said that erosion plays a significant role in sea-level rise, which is not an idea embraced by mainstream climate researchers. He said the California coastline and the White Cliffs of Dover tumble into the sea every year, and that contributes to sea-level rise. He also said that silt washing into the ocean from the world's major rivers, including the Mississippi, the Amazon and the Nile, is contributing to sea-level rise.

"Every time you have that soil or rock or whatever it is that is deposited into the seas, that forces the sea levels to rise, because now you have less space in those oceans, because the bottom is moving up," Brooks said.

"What about the white cliffs of Dover, California, where time and time again you're having the waves crash against the shorelines, and time and time again, you're having the cliffs crash into the sea. All that displaces water, which forces it to rise, does it not?"

Duffy responded: "I'm pretty sure that on human time scales, those are minuscule effects."
It's really the "does it not", that sells this, like Brooks just check and mated the eggy egghead liar. There's no doubt that on a grand geologic timeframe the land all washes into the sea and the world is remade, but it doesn't actually happen this quickly. Brooks could also possibly be surprised by the fact that, as the earth is currently constituted, there is more ocean than land.
At least this was a nice exchange.
Brooks added that Antarctic ice is growing. That was true a few years ago, and scientists say it does not disprove the theory of global warming because different factors affect the Arctic and Antarctic rates of melting.

"We have satellite records clearly documenting a shrinkage of the Antarctic ice sheet and an acceleration of that shrinkage," Duffy said.

"I'm sorry, but I don't know where you're getting your information, but the data I have seen suggests — " Brooks said.

Duffy answered: "The National Snow and Ice Data Center and the National Aeronautics and Space Administration."
Your Reminder That The President Doesn't Know Anything: North Korea and Libya Edition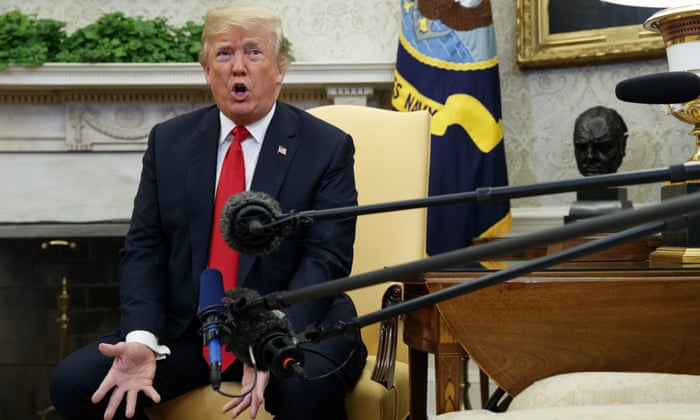 The US president issued the threat at the White House when he was asked about the recent suggestion by his national security adviser, John Bolton, that the "Libyan model" be a template for dealing with North Korea at a summit between Trump and Kim planned for 12 June in Singapore.

"The model, if you look at that model with Gaddafi, that was a total decimation. We went in there to beat him. Now that model would take place if we don't make a deal, most likely. But if we make a deal, I think Kim Jong-un is going to be very, very happy," Trump said, suggesting that the regime's survival could be assured if Kim agreed to disarm.

"This with Kim Jong-un would be something where he would be there. He would be running his country. His country would be very rich," the president said.
I mean…that's not what the Libya model is. It's when, after the invasion of Iraq, Gaddafi agreed to give up his nuclear power in exchange to be welcomed into the world community and keep getting rich. The problem is that after a while, the world helped him be overthrown and killed. So it is a weird precedent for Bolton to suggest, but I see the outline of coherence there.
But Trump doesn't know that, or doesn't care. He's just making random threats, only remembering one thing, and using that as his "model". If you wanted to argue that he was making a point, it is that he's assuming Kim saw what happened to Gaddafi, so he knows the US could take him out, so he should make a deal. After all, Trump literally says that they'll decimate the regime if a deal isn't made, which now that I read it, should be the fucking headlines.
That's terrifying and a horrible way to negotiate. I know he thinks it sounds tough. But combined with the "Libya model", what reason is there for Kim to give up his weapons? The stability of the United States? The strength of our promises? It's madness predicated by total ignorance and a half-cocked notion of how strongmen talk.
What 100 Miles In Means to Border Patrol
A year and change ago, we talked about how an aggressive CBP, who, along with ICE, is the spear end of Trump's white nationalism, were using the full extent of their powers to harass people "100 air miles from any border".
It's a weird notion for those of us who don't really have to worry about Border Patrol. We don't really understand the extent of their jurisdiction. But Tanvi Misra and the great people at CityLab showed exactly what this means, in a tremendous piece of research and data-reporting.
In the "border zone," different legal standards apply. Agents can enter private property, set up highway checkpoints, have wide discretion to stop, question, and detain individuals they suspect to have committed immigration violations—and can even use race and ethnicity as factors to do so.

That's striking because the border zone is home to 65.3 percent of the entire U.S. population, and around 75 percent of the U.S. Hispanic population, according to a CityLab analysis based on data from location intelligence company ESRI. This zone, which hugs the entire edge of the United States and runs 100 air miles inside, includes some of the densest cities—New York, Philadelphia, and Chicago. It also includes all of Michigan and Florida, and half of Ohio and Pennsylvania, according to a prior rough analysis by Will Lowe, a data scientist at MIT.
Read the whole piece to understand the democratic dystopia that has been gaining steam for decades, and has now been shot into hyperspeed.
Finally, A Nice Thing About Rivers
The Center for Humans and Nature has a nice interview with an artist named Joel Shessley. (Disclosure: the company I work for has the Center as a client, though I wasn't there when we did their website.) He is painting the Fox River, and his work will be presented at Aurora University in September. Anyway, he has some lovely thoughts about rivers, and I'll leave you with them, contemplatively.
How has painting from different perspectives and during various seasons transformed the way you view life on the river and the life of the river itself?

Since I'm dealing with the watershed, and not just the river itself, I've become much more aware that the river cannot be separated from the land that feeds it. The river is what it is by virtue of all the named and unnamed tributaries, all the little rivulets and the larger streams that flow together to become the Fox River. Working across the Fox River Valley, I've begun to feel the pull of gravity down the gentle slopes. I've begun to sense how the river and the land interact. A topographic map would show you this, but patient observation on the ground and moving with the current in a canoe puts this information into your bones in a visceral way.