So, first a programming note. As the handful of you who read this can probably tell, posting has been sporadic at best. The grind of writing 1500 words every morning isn't always compatible with my schedule, and I admit to being frustrated that the work doesn't really seem to have an impact. I truly value everyone who reads- you mean more to me than I can express- but I've decided to focus more on larger projects, rather than quick reaction pieces.
So this will still be active, but mostly for book reviews and good read roundups. I'm sure I'll be writing when moved by something, but want to work on a few other things, without the pressure to blog or the weird scratching guilt that comes when this has lain fallow for a few days.
OK- enough solipsism: onto the reads!
Illinois has always been a hub state, where the Great Lakes get connected to the Mississippi River basin. It's where the continent shifts. Chicago, especially, was built to connect the two great water systems, and it quickly became the railroad center of the nation. Read the magisterial Nature's Metropolis for a deep background on how the vast American west relied on (and built) Chicago.
So to say that the region was forged around the dictates of capitalism is a bit of an understatement. It is still the case, even if it has shifted. In The New Republic, Alexander Sammon has a really well-written, comprehensive, and stunning piece about how Elwood, IL, 40 miles southwest of Chicago, is at the center of the global shipping economy, and how it has transformed and erased this town of 2200.
As Sammon explains, Elwood is blessed with "serendipitous proximity to the country's major infrastructure. Six class-1 railroads and four interstate highways pass through the region, which is situated a day's drive from a full 60 percent of the country. Chicago is some 40 miles northeast as the crow flies."
It ain't the crow that flies though. It is 25,000 tractor trailers every day. It is over three million shipping containers a year. It is goods from around the world, transported on vast ships, loaded onto trains, distributed into trucks in Elwood, and then to their final destination.
Sammon shows how it the center of the global economy, with all that entails. This is a story of the promise of industry and jobs not trickling down even as global companies get bigger and the rich get richer. It's wildcat truck drivers, unaffiliated contractors who are untrained and paid only for getting goods as quickly as possible, hurtling down residential streets at 50 miles an hour. It is creeping automation. It's choking pollution. And it is always growing. Always consuming. It never stops.
It didn't just start, of course. Here in Chicago we've had 150 years of industrial impact, but as a new report by the NRDC shows, it's impact hasn't exactly been even. (Via Citylab and Sophia Yeo, who explains perfectly what it all means.)
This shows what neighborhoods are most at risk for pollution and its dangerous impacts. You can see pretty clearly that the industrial corridor running southwest along the Sanitation and Shipping Canal (or the South Branch) is deeply dangerous, with a long legacy of industrial negligence and environmental apathy.
While this isn't a 1:1 with race and class, it is pretty telling. Some areas have political power, and some don't. We put industry and dumps and power plants in near some people, but not others. We redline some people out of areas with more parks than plants, but not others. There is no one decision made: it is a long and intertwined history. You can't tell the entire history of Chicago from that map, but you certainly can give it a good shot.
Want some more Chicago history? Of course you do, dammit! Here's a cool story in the Guardian, by Tanner Howard, about Native American trails that are still in Chicago's grid system. It's not all the angle streets, but most of them. Actually, the story is less "cool" than "predictable".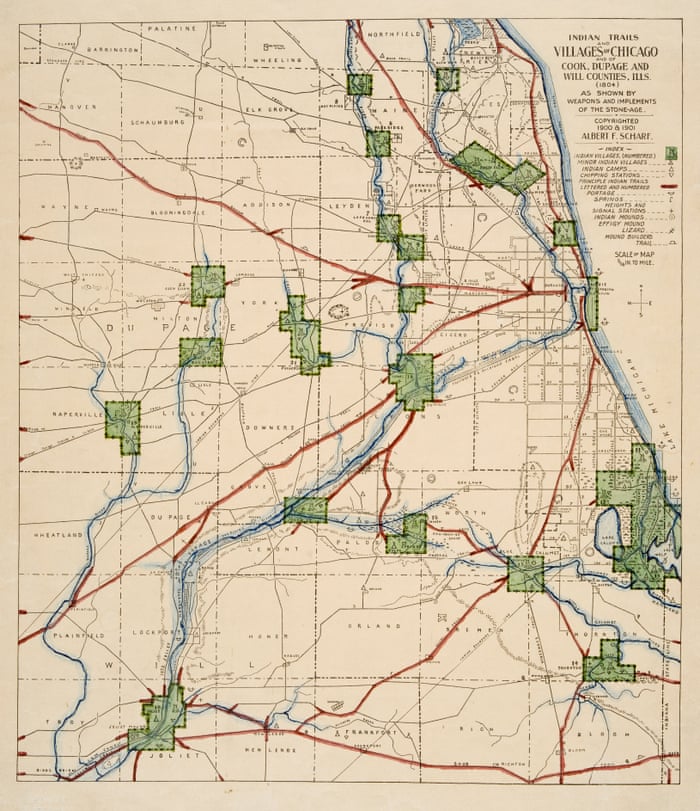 These native roads are buried and the history effaced. Rogers, up in Rogers Park, was originally called Indian Boundary Road, since it marked where natives had to be beyond after the Blackhawk War. It might be an uncomfortable name, but it is also an honest reckoning one. Howard's story is unflinching in the way colonizing land and people and history works, how thorough and comprehensive it is- how comprehensive the project of effacement needs to be- even down to the street system.
One thing that stands out in the story is that the native trails were based on nature- on the search for high ground in the marshy wetlands.
Over the course of four distinct periods of glacial melting, stretching as far back as 14,500 years ago, Chicago's terrain was shaped by the ebbs and flows of melting ice. Through the process of littoral drift, where small bits of sand and organic matter drifted from place to place on the tide, small but distinct ridges were etched into the land. Those natural high grounds, rising no more than 10 or 15 feet above the rest of the terrain, became some of the pathways used by Native peoples as they began to inhabit the area about 11,000 years ago.
And then Europeans came and drained the swamp and imposed a grid system and killed and erased the natives and built this city I fucking love. It's complicated. But it shows again that we need to understand our history, reckon with it, and take joy that those irritating 6-corner intersections are remnants of glaciers, bits of high ground over the wet prairies, trod on for thousands of years, and remember that we live in geology.
We live in geology and we live in ecology, but we don't really remember that very often. In fact, as a species, we go out of our way to thwart it. Hence, so long, fish!
The apocalypse has a new date: 2048. That's when the world's oceans will be empty of fish, predicts an international team of ecologists and economists. The cause: the disappearance of species due to overfishing, pollution, habitat loss, and climate change.
We could reverse this, but it would mean international cooperation, a change in the way we organize our lives and comfort, and the ability to look past the short term and our own lives. So yeah: so long, fish!
There's a chance that is too hard on the species, but we live in liminal times and we're run by the worst people. Our ruling class is made up of a bunch of wet-brained idiots who are extremely comfortable with corruption. This Washington Post article about how T-Mobile execs suddenly started staying in Trump's Washington DC hotel when they needed a merger approved is a perfect tale for our times.
You have a huge company getting huger and knowing that to do so they need the personal approval of our idiot President, and they know that giving him money is how to make it happen. There's no moral or metaphor here. It's naked corruption.
That's what Trump has done: by being so insecure, so vain, so empty, and such a ridiculous moron, he's brought the worst of the ruling class into the open. Corruption and disdain for decency has always been the way they do business. It's the the daylight now.
Corruption is the key to the entire Trump Presidency and to our moment (except for one other thing, which we'll get to below). Our monied elite believe that the government should exist only to ease their path to power, help them get richer, and crush the working class. They've worked to make that happen. Over the last 40 years, the GOP has built itself around that idea: that government is the enemy and so we'll destroy it except to help the rich. Large parts of the Democratic Party agree (though that is changing).
So corruption, here, is a feature of the system, not a bug. It's made so that the rich can get richer and their water-carriers get sinecures. Why not loot? Why not hand over bags of money to the President? Why not use the highest office in the land to make a few more dollars? If the government exists only to serve the rich, what difference does it make?
That's why Trump is the perfect GOP president. He's so nakedly corrupt, and believes so fully and openly that the government should exist just to cater to him, that it is a family business, that he has made it open and acceptable to act in the same way. There are no more illusions. It's an open shop, so long as you flatter the storekeeper.
But while corruption is key to Trump and the GOP, it isn't the only key. Racism and hatred are the driving force. By now, you've seen this horrible teenager.
You've probably seen the video. White, MAGA-hat wearing teens, marching to deny women's rights, got into a shouting match with some Black Israelities (not Black Lives Matter), and then a Native activist started drumming and chatting to break things up. They surrounded him, mocked him, shouted "build the wall", and otherwise intimidated him.
Especially this kid.
He walked up, inches away, and started staring, and smiling a smile of cruel mockery, of power, of intimidation. He was hoping to scare the activist, to rattle him, to show him who is boss. He was hoping to get laughs. He was hoping to get the approval of his hooting peers.
In some ways, this is edgelord bullshit. It's defying "norms" or whatever, and showing that you are pretty cool because you don't give a fuck about being PC. It's showing that you can do whatever you want. That's the heart of trolling, of course.
It's more though. Build the wall, harassing a Native, denying women's reproductive rights: it's power and racism. It's not just that they are looking to be edgy. They've found it. As a friend of mine said, "being an racist bully is an edgy identity."
That's why racism works and lingers and is growing. For certain people, it is fun. It's laughable. It's brave. And while you can say "they aren't really racist; they just think it is cool", I think that's naive. It all comes from a lack of empathy, and manifests itself the same. It's privilege to know that your actions won't hurt you, and so you can do and say whatever you want, because those people, those women, those migrants, that old man clamoring for peace- they aren't people. They don't matter. We do what we want.
That, of course, is the heart of Trumpism. It's why those red hats are the official uniform of smug racists. And they aren't going away.